The second ending of the Shonen Hollywood anime.
Song: Kojika no Kutsu
By: Kakeru Kazama (CV: Ryota Ohsaka)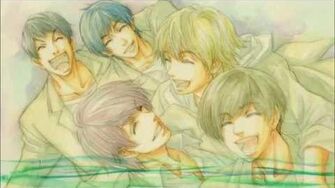 hajimete no ippo no kanshoku wo oboeteita nara
kono saki mo hagurezu ni susunde
hokorashige ni waraeteta kana

aruite hashitte tachidomaru
furikaette mo ashiato kiete

massara na boku no kutsu
itsuka wa yogorete yuku kedo
sono saki de matteiru sekai wa atarashii

ai no imi wo shiranai bokura wo yurushite kudasai
wagamama na ashimoto ni hane wo arigatou
If I remembered how the first step felt,
Having never wandered astray,
Maybe I could have Smiled proud

Walk, run and stand in place
Even if I look back, my footprints are gone

My brand new shoes,
Will eventually grow dirty
But the world waiting beyond that is new

Please forgive us for not knowing the meaning of love
Thank you for putting wings on my selfish feet

Ad blocker interference detected!
Wikia is a free-to-use site that makes money from advertising. We have a modified experience for viewers using ad blockers

Wikia is not accessible if you've made further modifications. Remove the custom ad blocker rule(s) and the page will load as expected.