The third ending of the Shonen Hollywood anime.
Song: Unki Joushou Yellow Punch
By: Daiki Tomii (CV: Shouta Aoi)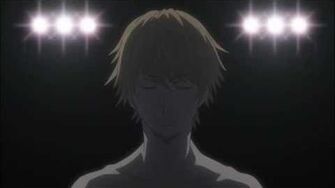 unki joushou IEROO PANCHI
konkyo hanenoke yay, yay, ah!
kami-sama ni chikau yo
zenshin zenrei ganbarimasu

koko made koko made koko made oide
mirai no jibun ga koe ageru
man'in densha tobidashite, IESSAA!
koukai wa PENARUTII

tsuraikoto wa kanarazu saru
shinjite shinjite shinjimakure
soredemo DAME nara mata shinjite
ikinuki kuuki ga umai

hito wo nukun janai
jibun ga susumu dake
sennen saki sae mo
todoroke kagayaku hoshi ni shite miseru

unki joushou IEROO PANCHI
ima tatteru kono basho ga
BIRI nara mouke mon
agare agare soko ga SUTAATO
Rising fortune yellow punch
Push aside all evidence; yay, yay, ah!
I swear to god
I will dedicate my heart and soul to doing my best

Come here! Come here! Come here!
Jump out of a full train; Yes, sir!
Regret is a penalty

Painful times will always pass
You've gotta believe, believe like mad
And if that isn't enough, believe some more
The air tastes great when you take a break

Don't try to surpass others
Just keep pushing yourself forward
Even thousand years from now
I will make these thorns stars shine

Rising fortune yellow punch,
If the place where I am currently at
Is the rock bottom, I struck gold
Rise,rise! For that is the starting line
運気上昇イエローパンチ
根拠跳ね除けyay, yay, ah!
神様に誓うよ
全身全霊頑張ります

ここまでここまでここまでおいで
未来の自分が声上げる
満員電車飛び出してイエッサー
後悔はペナルティ

辛いことは必ず去る
信じて信じて信じまくれ
それでもダメならまた信じて
息抜き空気がうまい

人を抜くんじゃない
自分が進むだけ
1000年先さえも
轟け輝く星にしてみせる

運気上昇イエローパンチ
今立ってるこの場所が
ビリなら儲けもん
あがれあがれそこがスタート
Ad blocker interference detected!
Wikia is a free-to-use site that makes money from advertising. We have a modified experience for viewers using ad blockers

Wikia is not accessible if you've made further modifications. Remove the custom ad blocker rule(s) and the page will load as expected.