The fifth ending of Shounen Hollywood.
Song: Air Boys
By: Shounen Hollywood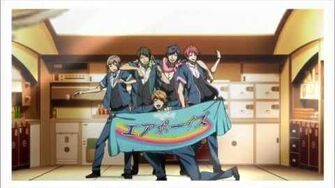 Ikiteru wa inna ni dekiru koto nante
Kagirarete irukeredo
Nenyro (nenryo), hojuu (hojuu), maintenance

Good job! Oyayubide aizu saretenara
Miokuri, miokura reteyuku
Mainichi dokokade

Tobitainda sora takaku, takaku
Boku no kagega miemasu ka?
Asutsayu ga utsusu anata no sugata wa utskushisugi de
Boku no jinsei sasagedaku naru
There is only so much you can do...
When you are alive
Fuel (Fuel) ,restock (restock), and maintenance

Good job! If you give the thumbs-up,
I'll go see you off and you'll come see me off
Every day, somewhere...

I want to fly high, high in the sky
Can you see my shadow?
The reflection of you in the morning dew is too beautiful
It makes me want to offer my life to you
Ad blocker interference detected!
Wikia is a free-to-use site that makes money from advertising. We have a modified experience for viewers using ad blockers

Wikia is not accessible if you've made further modifications. Remove the custom ad blocker rule(s) and the page will load as expected.